Sunday, January 2nd, 2011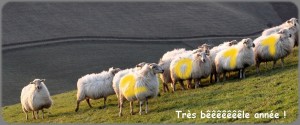 Pfiou le temps passe à une de ces allures !!
Plus que 2 ans avant la fin du monde à ce qu'il paraît. On verra bien.
En attendant la fonte des glaces, l'épidémie zombie ou le retour du déluge, voici les projets des productions Ten Bucks pour cette nouvelle année :
Gift qui ne devrait plus tarder. 😉
The Mole & the Fox (épisodes 8 à 11)
GUM
Halloween
Prisoner X-23
Sequel of the Dead
Et peut-être un nouveau film de Noël pour en faire une trilogie (c'est à la mode à ce qu'on m'a dit).
Plus les projets non prévus…
Et toujours nos 2 Arlésiennes :
Starguts
Book of the Dead
Par contre, je ne pense pas réussir à finir Satellite cette année malheureusement.
Voilà encore une sacrée année en perspective.
Stay tuned. 😉
Doc.
P.S. : l'image des moutons est piquée à Jean Hughes Brège des Ignobles du Bordelais car j'ai trop eu la flemme de faire quelque chose. Merci à lui. 😉